Welcome to Backroad Mapbooks Canada
This web map provides you with a seamless topographic map of Canada, including all provinces and territories from coast to coast. This map is built off the same Backroad Mapbooks data made popular through our Mapbook series, Recreation Maps and GPS Map products. Never before has there been such a powerful tool for viewing and planning outdoor adventures in Canada.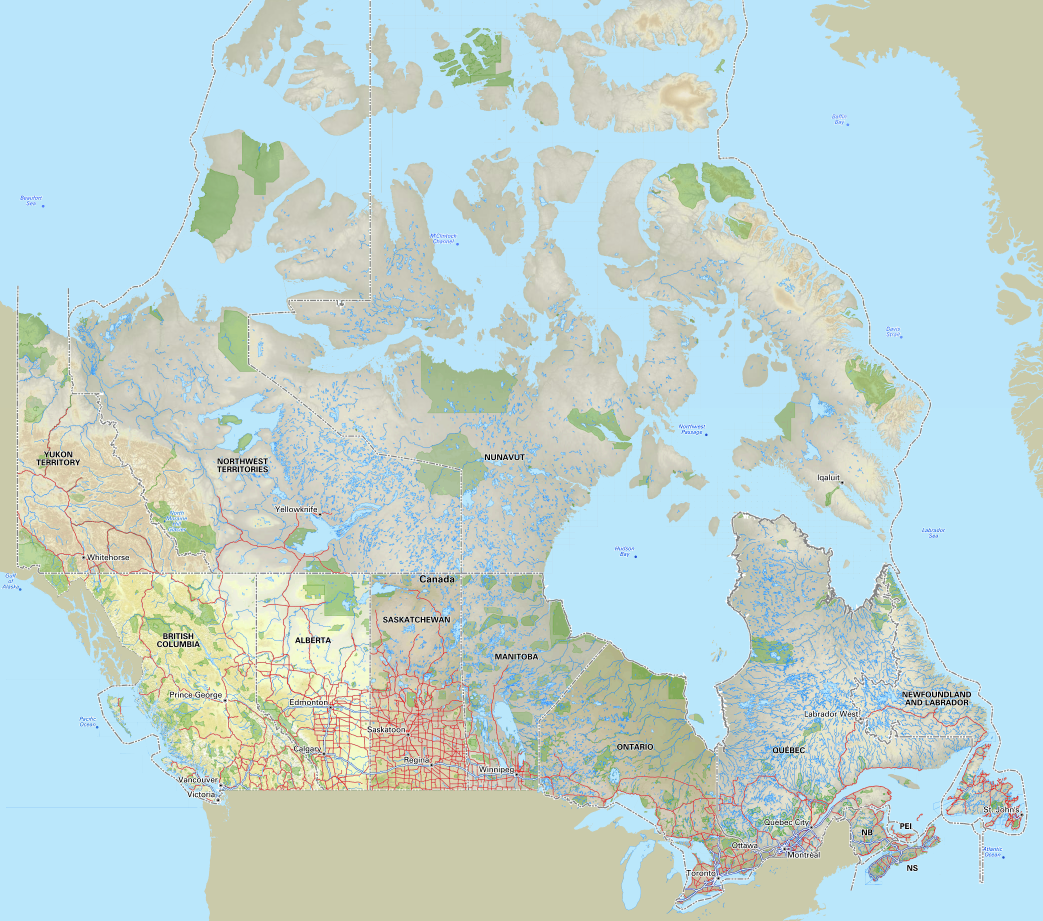 Free Features
All registered users are able to access our Backroad Mapbooks basemap layer which includes all of our front and backcountry road networks, parks and geographic features on our industry leading topography. These maps display the features like lake and mountain names that outdoor enthusiasts look for when out exploring with traditional maps.  Users will also be able to utilize a robust set of trip planning tools, such as adding waypoints, drawing their own lines/routes and even request Driving Directions* to or from your destination of choice.  It is also possible to get our popular printed BRMB Topo Maps of your area of interest with a couple clicks of the mouse.
* Driving Directions are provided by Mapbox and powered by OpenStreetMap road data.
Premium Membership Features
To really tap into the power of the Backroad Mapbook recreation data, we recommend signing up for a premium web map subscription.  This subscription includes access to 10+ Adventure overlays, crown or private land areas, alternate map layers including satellite imagery, advanced routing options, bigger discounts on printed maps and much more!  With this membership you can access:
Tens of thousands of Outdoor Activity Points of Interest (POIs) that include


Descriptions
Access
Activities & Amenities
Highlights
Trail, Lake or Route Data

Hundreds of thousands of kilometers of recreational trail lines and routes including:

Multi-use Trails

Hiking Trails
Mountain Biking Trails
Backcountry Routes

Motorized Trails

ATV [OHV] Trails
Snowmobile Trails
Dual Sport Routes

Paddling Routes
Winter Trails

Cross-Country Ski Trails
Snowshoe Trails

Hunting & Fishing Management Boundaries & Crown Land Areas


Fishing Regions & Zones
Hunting Management Areas & Zones
Crown Land or Private Land Areas

Access to multiple Basemaps including


Satellite Imagery
OpenStreetMap
NRCan Topo Maps

Advanced Routing Options

Create Tracks with GPS Receiver
Save Trips
Export GPX

Discounts on Printed Topo Maps & More!